The Portrait Busts of Charles I -
S
ome Photographs
and a Few Notes.
In no particular order.

These will eventually form part of a study into the portrait busts and Statues of Charles I
with particular reference to the Bronze Bust of Charles I by Hubert Le Sueur in the Bodleian Library, Oxford, the plaster bust of Charles I after Le Sueur in the Library at St Johns College, Oxford and the full length bronze statue of Charles I and Queen Henrietta Maria in the Canterbury Quad also at St Johns College, Oxford.
A Pair of Bronzed Plaster busts
Private Collection
Formerly in the collection of Rupert Forbes Gunnis (1899 - 1965).
Collector and Historian
Rupert Gunnis wrote the excellent The Dictionary of British Sculptors 1660 - 1851, pub. Abbey Library 1951, and revised and updated in 1968.
Rupert Gunnis "revolutionised the study of British sculpture, providing the foundation for all later studies on the subject" Tim Knox.
Mrs Katherine Esdaile (d. 1950). thought them to be by Francois Dieussart (d. 1661) but recently it has been proposed that they are by Peter Besnier, who we have already touched on in this blog.
In 1947 Mrs Esdaile had suggested that Gunnis bequeath them to the Victoria and Albert Museum and Terrence Hodgekinson visited Hungershall to inspect these and other sculptures in the collection.
Ultimately they were rejected but the Museum accepted two signed busts by Nollekens and a bust of 'the unfortunate Admiral Byng' by Scheemakers.
For an excellent article on Rupert Gunnis see Portrait of a Collector: Rupert Gunnis at Hungershall Lodge and his bequest to the Victoria and Albert Museum. by Tim Knox, The Sculpture Journal Vol. 2, 1998.
Peter Besnier (d. 1693)
Entry below from The Biographical Dictionary of Sculptors available online at -
http://liberty.henry-moore.org/henrymoore/sculptor/browserecord.php?-action=browse&-recid=190&from_list=true&x=13
Peter Besnier (Bennier) - A French sculptor and the brother of Isaac Besnier, who had collaborated with Hubert le Sueur on the monument to George Villiers, 1st Duke of Buckingham, erected in Westminster Abbey in 1634.
Peter Bennier may have been trained in France but was living in England before October 1643, when he was appointed sculptor to King Charles I. He was required to look after the 'Moulds, Statues and Modells' in the Royal collection, a duty previously performed by his brother, in return for the use of a house and £50 pa from the privy purse.
The Civil War prevented him from taking up his duties and he was deprived of his office during the Commonwealth. At the Restoration he petitioned to be reinstated on the grounds that the late King had granted him the 'place of sculptor to His Majesty and the custody of his statues, etc, but by reason of the most unhappy distraction befallen since, hee injoyed not the same place, but was reduced into very great poverty and want through his faithfulness and constancy' (TNA SP 29/2, no 66-1, quotedby Faber 1926, 14). His request was granted on 15 March 1661 (TNA, LC3/25, 113, cited by Gibson 1997 (1), 163) and he held the post until his death, when he was succeeded by Caius Gabriel Cibber.
Bennier is listed as a ratepayer of Covent Garden, 1649-51, and among the Ashburnham Papers is a reference to a tenement occupied by Bennier near Common Street in 1664 (LMA, ACC/0524/045,046,047, 048, cited by Gibson 1997 (1), 163).
It has been tentatively suggested that he worked for Hubert le Sueur. He signed the monument with a 'noble' portrait-bust to Sir Richard Shuckburgh (1) (Gunnis 1968, 50).
The monument to Sir Hatton Fermor at Easton Neston, Northants, has been attributed to him because the bust is similar to the Shuckburgh one and the two families intermarried.
In 1655 Bennier was employed at Lamport Hall, Northants, carving shields and 'pictures', which were probably statues (Northants RO, IL 3956, cited by White 1999, 11, 12 n 10-11) (2). He also did unspecified work for the crown at Somerset House in 1661-2.
The bronzed plaster busts of Charles I and Charles II in 1965 at Hungershall Lodge, Tunbridge Wells, Kent, the home of Rupert Gunnis.
I hope to obtain better photographs of these busts in the near future.
These busts are very obviously a pair - the socles are very similar to the plaster busts of the Fermors formerly at Easton Neston sold Sotheby's (see below) and attributed to Peter Besnier.
A pair of plaster busts of Sir William Fermor, 1st bt. (1621-1661) and his wife Mary (1628-1670), daughter of Hugh Perry, attributed to Peter Besnier (French, d.1693),
1658.
Sold at Sotheby's Easton Neston sale Lot 12 - 17th May 2005.
Bought with the aid of an Art Fund grant by Northampton Museum and Art Gallery.
The Sotheby's Catalogue entry for these busts follows below -
He wearing quirass with lions pauldrons and a sash tied on his right shoulder, his hair falling in locks over the breastplate, an old illegible paper label to the reverse; she facing slightly to dexter, her hair styled in deep curls about her bare upper chest and shoulders; each set on integral plaster socles bearing the date 1658
height 72cm., 28½in.; she 65.5cm., 25¾in.
Photograph Courtesey Sotheby's
see - http://english18thcenturyportraitsculpture.blogspot.co.uk/2017/11/busts-of-sir-william-fermor-and-his.html
______________________________
Marble bust of Charles I.
Note the similarity with the Socle of the Gunnis and Fermor busts.
dated 1631.
The bust is dated 1631, the first year that Le Sueur was recorded in the King's employ, when he also spent four months in Rome taking casts of ancient sculpture. The sculpture is the earliest datable bust of the monarch by the artist and marks an increasing interest in sculptural portraits in England during the 1630s and 40s.
Probably made for Charles I; other bronze versions are known. Carved in London by Hubert Le Sueur (born in Paris, about 1590, died there after 1658).
Provenance:
Stated at the time of purchase to have come from The Hague, and stated to have been formerly in the royal palace Huis ten Bosch.
Purchased from Durlacher Bros., 42 New Bond Street in 1910.
Inscribed on the base in raised letters
'CAROLVS REX ARTATIS SVAE AN XXXI'
King Charles at the age of 31
Inscribed at the base in raised letters.
'HVBERT-VS LE SVEVR FACIEBAT 1631'
Hubert le Sueur made this 1631
Victoria and Albert Museum.
see - https://collections.vam.ac.uk/item/O77800/charles-i-bust-le-sueur-hubert/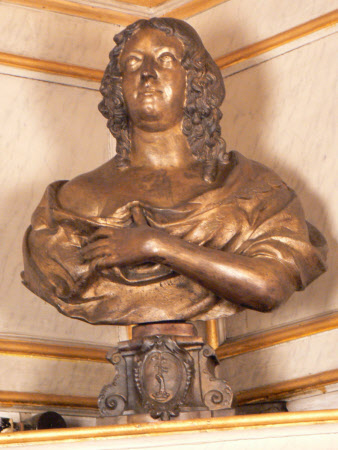 Bust of Catherine Bruce, Mrs William Murray (d. 1649).
Gilt Bronze
H. 785 mm
at Ham House
Attributed to PeterBesnier
National Trust