Equestrian Statue of Charles I
Looking down Whitehall to his place of execution.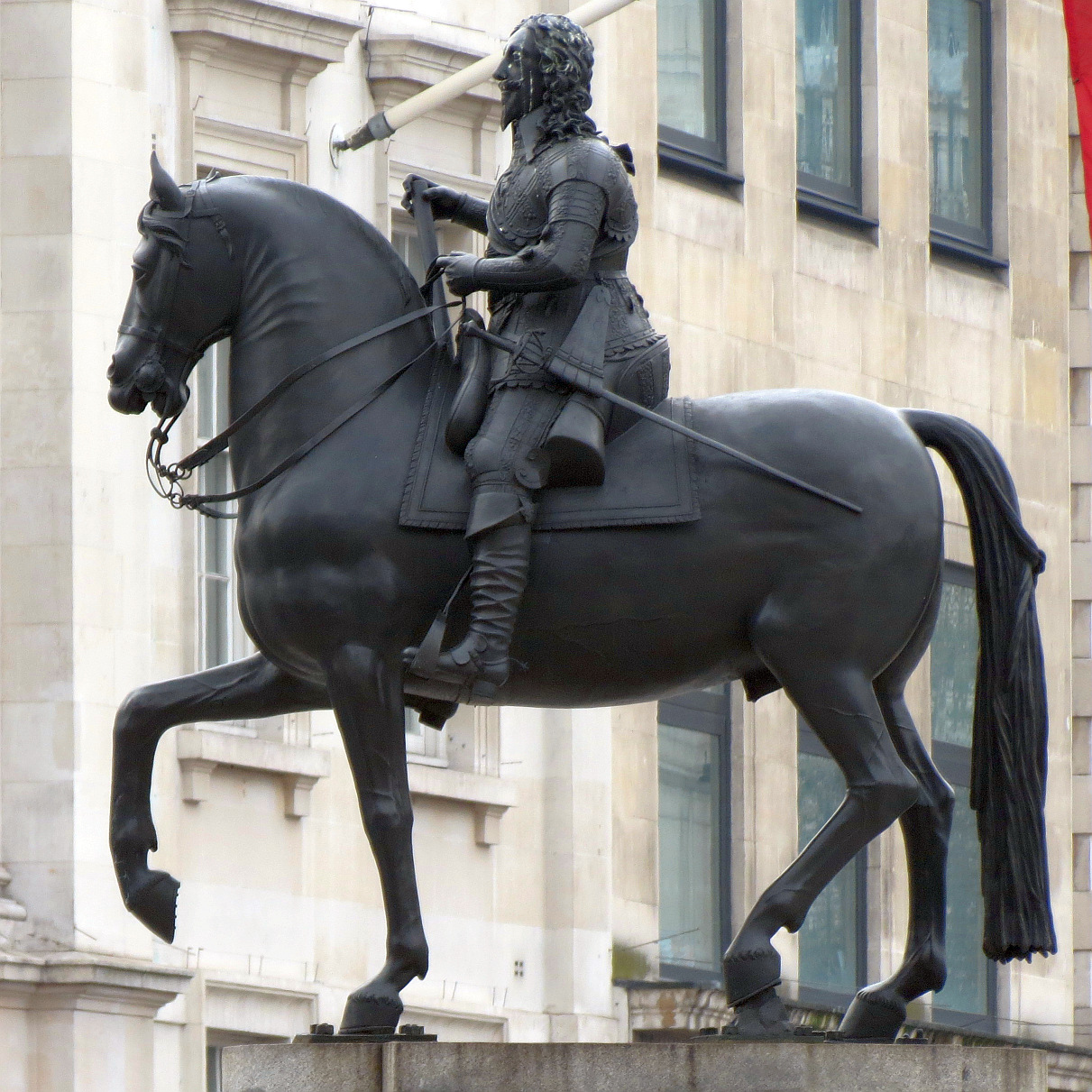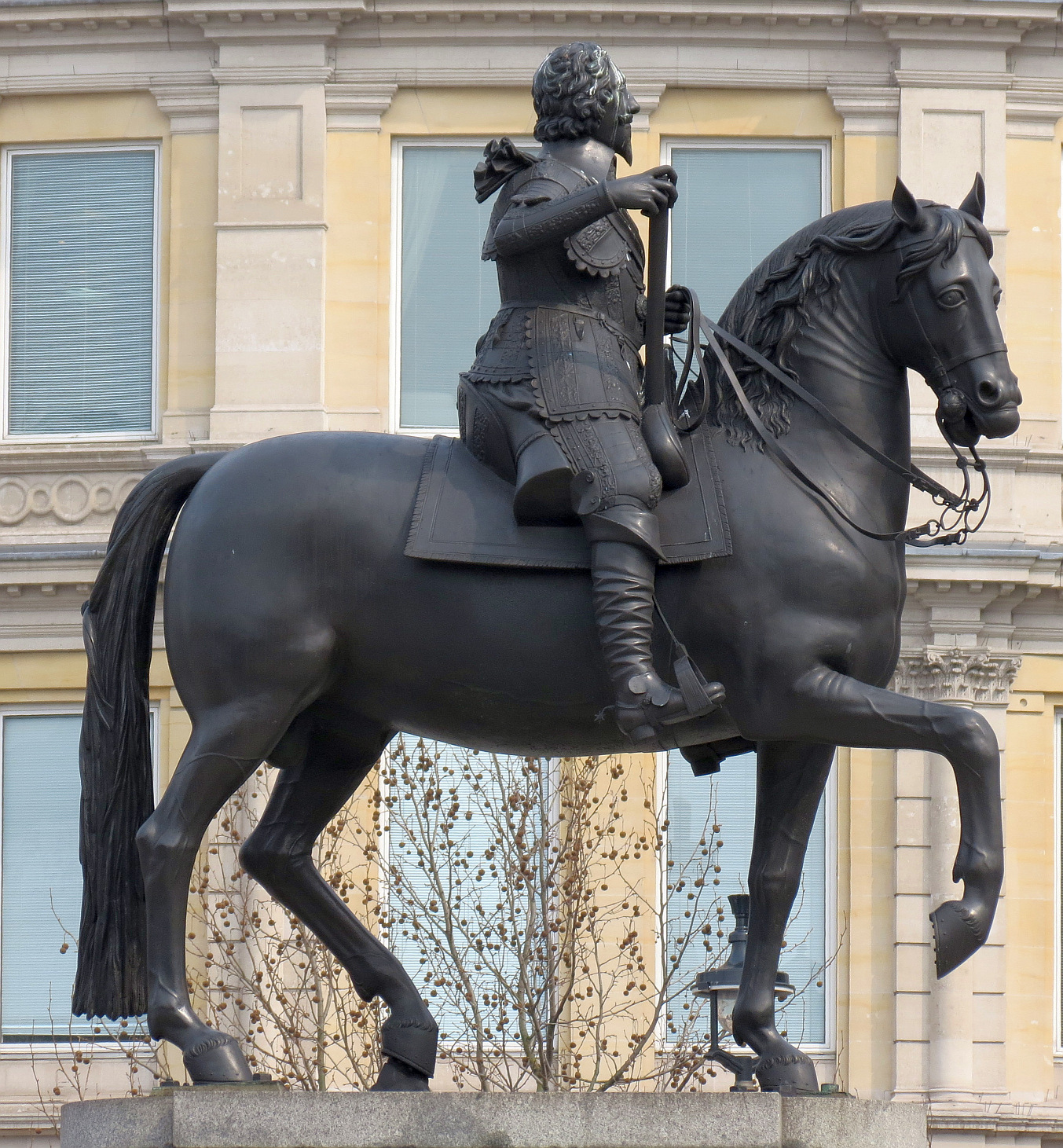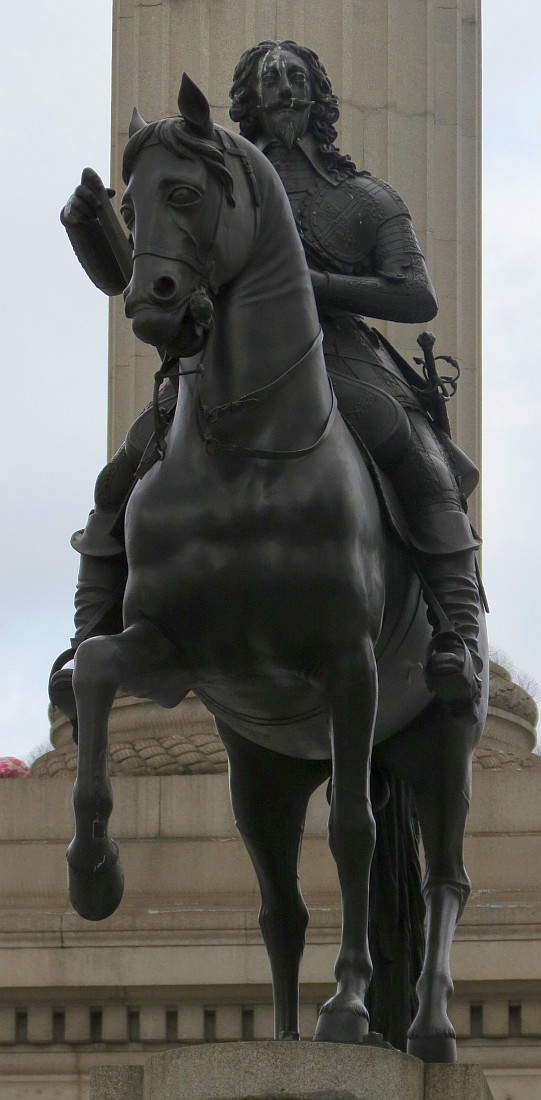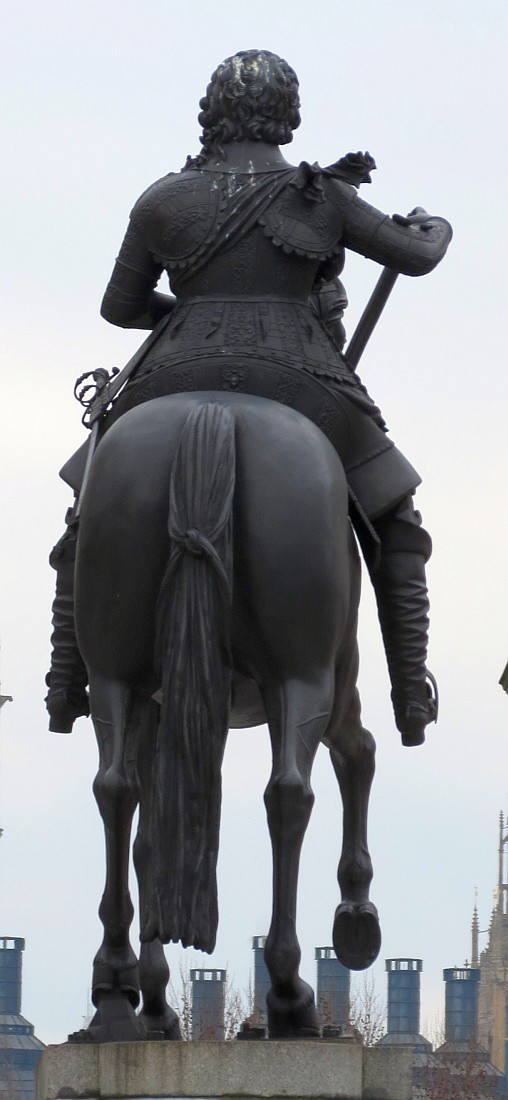 ______________________________________
The Royal Collection Bronze Equestrian Statuette of Charles I
Hubert le Sueur
size 33.0 x 27.0 x 11.0 cm (excluding base/stand)
Gilt-bronze equestrian statuette of Charles I depicted in full armour, holding a staff in his right hand. Set on an ebony plinth with bronze foliate borders inset with a gilt bronze roundel of St.George and Dragon. Related to Hubert Le Sueur's equestrian statue of Charles I from circa 1633, this is probably the first bronze reduction of an equestrian portrait of an English sovereign and it has been suggested that it could be identified with Charles I's 'picture of horseback upon a black wooden Peddistall belonging to - Sommersett House' listed in the Van der Doort's inventory from circa 1639.
Provenance
Bought by H.M. Queen Elizabeth The Queen Mother in 1947 (from Collection of Mary, Lady Millais). Bought by the Prince Regent (Lord Yarmouth) at Squibbs auction 1813. Possibly belonged to Louis XVI based on design for statue XV in the Palace Royale Rouen 1776 (never executed).
___________________________________________
Northumberland House behind
Bronze Equestrian Statue of Charles I (1600 - 49) by Hubert Le Sueur (1580 - 1670).
by Wenceslaus Hollar (1607 - 1677),
Etching, mid 17th century.pub. Henry Overton.
Plate size - 395 mm x 310 mm.
Anonymous Engraving of Charles I
Lettered with title at top left, 'D' at lower right and description in lower margin: "This Portraiture was drawne from the magnigicent Figure cast in brasse by that most famous Artist Monsieur Le Sueur Ano Dny 1633 exceeding the Proportion of the life being almost 10 foot high, and with great hazzard charge & care preserved under ground by John Revet Brasier living at Holborn Conduit at ye Diall"
Curators Comment lifted from the BM Website.
Information from Christine Stevenson (personal communication, July 2012): By 1644 Richard Weston, Earl of Portland and Charles I's former Lord Treasurer, was dead and the statue of Charles I which he had commissioned from Le Sueur formed part of an estate sequestrated that year. As such it was sold off to a consortium of Covent Garden residents, including the royal Surveyor Edward Carter; they may have intended it for the piazza, on the pattern of Paris's Place Royale (now Place des Vosges), which received its equestrian figure of Louis XIII in 1639.
Richard Weston 1577 - 1635, bought Roehampton House in 1624. In 1628 was made Lord Weston of Neyland, and in 1633 was created First Earl of Portland
Made originally for erection in Weston's Garden at Roehampton House now in the borough of Wandsworth. The Dutch architect Balthasar Gerbier was employed to remodel the house and garden and is believed to have had a hand in commissioning the statue
By 1650 the Council of State was trying to establish who owned the Covent Garden statue. Carter claimed it, and then sold it to the brazier John Revet, who in 1662 testified that he had been ordered 'by some officer at Whitehall ... to breake ye said statue in peices to ye end That nothing might Remaine in memorie of his said Majestie', but he had buried it instead.
The story remained well known. The even better story, that Revet made a fortune selling cutlery handles supposedly formed out of the royal bronze to royalists and republicans alike, is unfortunately not true. (Ball, R. M. 'On the statue of King Charles at Charing Cross', Antiquaries Journal 67 (1987): 97-101, on p. 97.)
Revet lost no time in advertising the statue after the Restoration, having an engraving of it made, 'for publique view in Memory of his said Late Majestie'; its letterpress underlined his 'great hazard charge & care' in defending this memorial. (Ball 1987, pp. 100, 99, who believed that no copies of the print had survived.) He then settled with the Portlands, from whom the king then bought the piece, for £1600, in April 1675. ( The Treasury papers relevant to the purchase are calendared in CTB 1669-72, p. 1009 (12 January 1672) and CTB 1672-75, pp. 306 (19 April 1675), 732 (30 April), and 745 (26 May).) It was subsequently erected, with a new plinth, in what is now Trafalgar Square, where it remains today.
______________________________
The Pillory Charing Cross. Plate 62 from Micocosm of London, 1809.
Mezzotint by Jan van Somer
Previously in the Collection of Michael Rysbrack - Collection mark at bottom right.
______________________________________
Night by William Hogarth with the Equestrian Statue of Charles I in the background.
Lettered with title on scroll in sky, and with publication line within image at bottom of statue: "London Sold by Iohn Bowles Print and Map Seller over against Stocks Market", and below at right "Sutton Nicholls delin et sculp.
James Green after Samuel Wale
1752
British Museum.
Print by Thomas Bowles III after Canaletto.
1753
British Museum
Charing X by Canaletto
Louis Phillipe Boitard
1756
British Museum
Thomas Malton 1795
British Museum.
Thomas Malton
1795
British Museum.
View in Charing Cross, with the equestrian statue of Charles I on the right, the Strand curving away into the distance; a carriage and a cart in the foreground; illustration from Ackermann's The Repository of Arts, part 26 volume 5. 1811 Etching with hand-colouring
© The Trustees of the British Museum.
Thomas Shotter Boys
View in Charing Cross; to the left can be seen the portico of St Martin in the Fields, beside it si Morley's Hotel and beyond that the corner turret of Nash's West Strand improvement; on the right is Northumberland House with twin lead-capped turrets and a central lion; in foreground to right is the equestrian statue of Charles I with 'T.S.Boys 1841' inscribed on the pedestal, a group of boys sit below, to the left a water cart laying the summer dust, a hansom cab and a striking pair of equestrians. 1842 Lithograph
© The Trustees of the British Museum